The state of Nayarit (a Nahuatl term which means "son of god who is in the sky and the sun") in Mexico is home to the Four Seasons Punta Mita Resort. Located at Bahia de Banderas and just 26 miles from Puerto Vallarta, Punta Mita is enclosed by the Sierra Madres, pristine white-sand beaches, natural islands and turquoise waters. This secluded enclave is perfect for any vacation or private getaway.
The Punta Mita resort development showcases the complete serenity and beauty of the Mexican Riviera, overlooking the Pacific Ocean's beaches and the area's lush green mountains.  With four distinct ecosystems, including seaside, desert, jungle and mountains, Punta Mita retains its surrounding natural environment and indigenous culture through careful ecological planning and development.
Set amid 1500 acres of coastal peninsula, the magic of Punta Mita inspired indigenous ancestors to worship the sun, stars and water and their chants and spiritual presence can still be felt during tranquil nights. This ambience makes Punta Mita a one-of-a-kind resort.
The resort offers 114 guest rooms and 26 suites. The tile-roofed Mexican casitas are set along the Pacific Coast and are available in spacious one, two or three story units. Each Mexican home is fitted with modern conveniences and features a private terrace or balcony with breathtaking views. Suites also delight guests with a private plunge pool. More impressive than the accommodations is the incredible attention to detail and the service of the staff
"What really sets us apart is the friendliness of the staff," Christian Clerc, general manager of Punta Mita says. "The staff wants all of our guests to feel like they are a part of a family and that Four Seasons Resort Punta Mita is their home away from home."
Families with children will appreciate the acceptance and enthusiasm of the staff toward their children. Young guests are welcomed with milk and cookies on their evening of arrival and rooms include child-sized bathrobes and toiletries. Furthermore, the splendid "Kids for all Seasons" children's program and Nunutzi Games Room for teens are both professionally supervised and are offered on a complimentary basis with indoor/outdoor activities, a play yard with wading pool and snacks at hand that focus on healthy selections. This amenity leaves mom and dad time to enjoy each other and a plethora of adventures unique to this resort.
As one of the regions in Mexico which enjoys a large biodiversity of ecosystems, guests of Punta Mita will become a part of nature and delight in watching gray whales raise their babies, marine turtles wading in the waters of Banderas Bay and observe their nesting and hatching during the summer season. Visitors not only witness baby turtles make their first steps into the ocean but might also help them in their journey as well. Swimming with sea lions is also an option for the whole family. The new Sea Lion Snorkel Expedition offers visitors a once-in-a-lifetime opportunity to get acquainted with these loveable creatures in their natural habitat.
"Sea lions are fascinating to watch both above and below the water because they are so playful and comical," said Abel Reyes, sea lion trainer. "Their willingness to include humans in their games is what makes the sea lion encounter so exhilarating and memorable for guests."
Punta Mita manages to combine a great vacation with nature, relaxation and culture.
Other water activities in and around the resort include scuba diving, coral-reef snorkeling, kayaking, surfing and deep sea fishing excursions where marlin, tuna, mahi mahi and dorado are known to proliferate. The concierge may also arrange for sailboat, power boat and yacht charters. The resort operates a luxurious, Italian-built, 55-foot yacht that will pamper guests and take them along the Pacific Ocean coastline and enchanting Marietta islands near the property.
For those interested in terrestrial activities, the all-terrain vehicle and horseback riding tours are a must. Those with adventurous spirits will revel in the canopy and Marietas Islands Wildlife Preserve tours and the Sierra Madre expedition. Other outdoor and educational opportunities include ruin hikes, historical tours, nature beach walks and a trip to the onsite Punta Mita Cultural Center.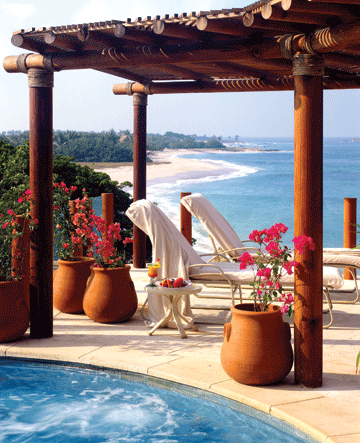 Tennis and golf aficionados will marvel at the facilities. The tennis program is managed by Peter Burwash International and includes four courts (two Har-Tru, two artificial grass) with night lighting. The player match-up system is perfect for anyone looking for a singles or doubles match. For larger groups, entertaining clinics, tournaments, socials, camps, tennis carnivals or the famous tennis show can be arranged with advanced notice.
The private, 18-hole Jack-Nicklaus-designed championship golf course sits on 200 acres of tropical landscape and flowering trees.
"The Four Seasons golf course at Punta Mita provides all of the challenge and exhilaration that players demand of a world-class resort, combined with the pure magic of ocean views, varied landscapes and a unique environment," Nicklaus said.
The par 72 course has five sets of tee boxes offering play from 5037 yards to 7014 yards, making the course enjoyable for both beginners and seasoned golfers. Fairways are wide and open, with targeted greens. The presence of constant ocean breezes offers golfers both a challenge and a pleasant climate in which to play year-round.
Set within the surrounding Sierra Madre Mountains, the course includes eight holes which border either the Pacific Ocean or Banderas Bay, including the optional and signature par-3, 3B hole with a green located 199 yards offshore on a natural island known as the "tail of the whale" because when seen from the air resembles the shape of a Humpback. While the tee is located on the mainland, if the tide is high one must take an "amphibious" golf cart (operated by a seasoned and professional driver) to the island green. As an alternative, 3A does not require you to hit across the ocean, but does offer an equally challenging marshy area to hit across to the green. The golfing experience at Punta Mita is like no other.
"Guests absolutely love the course," golf professional Leonardo Castellanos says. "It's a great driving course, with a good mix of par 3, 4, and 5's. Women especially enjoy the course, with many commenting they've shot their best game ever at Punta Mita."
After a day of full activity, Apuane Spa is a tranquil setting that offers a variety of treatments using regional products. The Punta Mita massage uses indigenous sage oil and tequila while the Mayan wedding ritual for couples starts with an application of an elixir of roses, nut oils and honey to dry areas of the skin. A Temaztac wrap, a Mayan treatment containing milk serum, vanilla, orange essence and wheat and corn proteins then softens and nourishes the skin while a mini-facial of kiwi, honey and natural yogurt is applied. Meanwhile, the therapists draw a Mayan milk bath for the couple to soak in once the wrap is removed. The Apuane suite indulges with a sun-filled steam room, whirlpool, sauna, shower and private outdoor terrace for two.
For a truly spiritual journey, the Temazcal spa experience leads guests through a centuries old process that is part treatment and part ceremonial ritual known to help the circulation and detoxification process. While enclosed in an igloo-shaped dome, a shaman introduces hot volcanic stones and aromatherpy. It is thought the Aztec, Mayan and other Mesoamerican cultures used the combination of heat and steam to heal and purify the mind, body and soul. The session concludes with a shower and feast of tropical fruits and herbal teas.
Those wishing a more mellow treatment may partake in a specially prepared bath by a bath butler. All baths consist of a combination of bubble bath, salts, hydrating body lotion, scented candle, body brush, herbal eye treatment and in-room dining. Children may also enjoy a blueberry pie bubble bath with fun soap, toys, a jelly-bean scented candle and milk and cookies to wrap the experience into perfection. Mom and dad may also savor a full menu in the privacy of their terrace 24 hours a day.
Those wishing to dine formally may indulge in executive chef Herve Fucho's cuisine. Aramara Restaurant, with its outdoor terrace, offers fine "Chino Latino" creations plus a range of seafood and international dishes. The bar invites guests to enjoy delicious cocktails, Mexican and Cuban cigars with daily lively music. Bahia, on the other hand, is a contemporary beachfront grill where chef greets a local fishing boat in the morning and serves his selections at lunch and dinner. Guest may also make selections at this time and have them specially prepared that day. Ketsi and Tail of the Whale (located at the club house) are casual spots where guests may enjoy a la carte items.
Honeymooners should make an evening unforgettable and dine upon "the rock" or a private beach dinner. Tiki torches, fire for roasting marshmallows and entertainment may be arranged for large parties or families as well.
Because of the great facilities, Punta Mita is also perfect for gala banquets, private receptions and meetings. The 2600-square-foot ballroom is adaptable for staging and audiovisual presentations.Due to the limitless activities available, Punta Mita recommends researching the resort and making reservations before arriving. TheResortChannel.com offers a wealth of information and video clips to help with itinerary planning.
By Hilda Ochoa